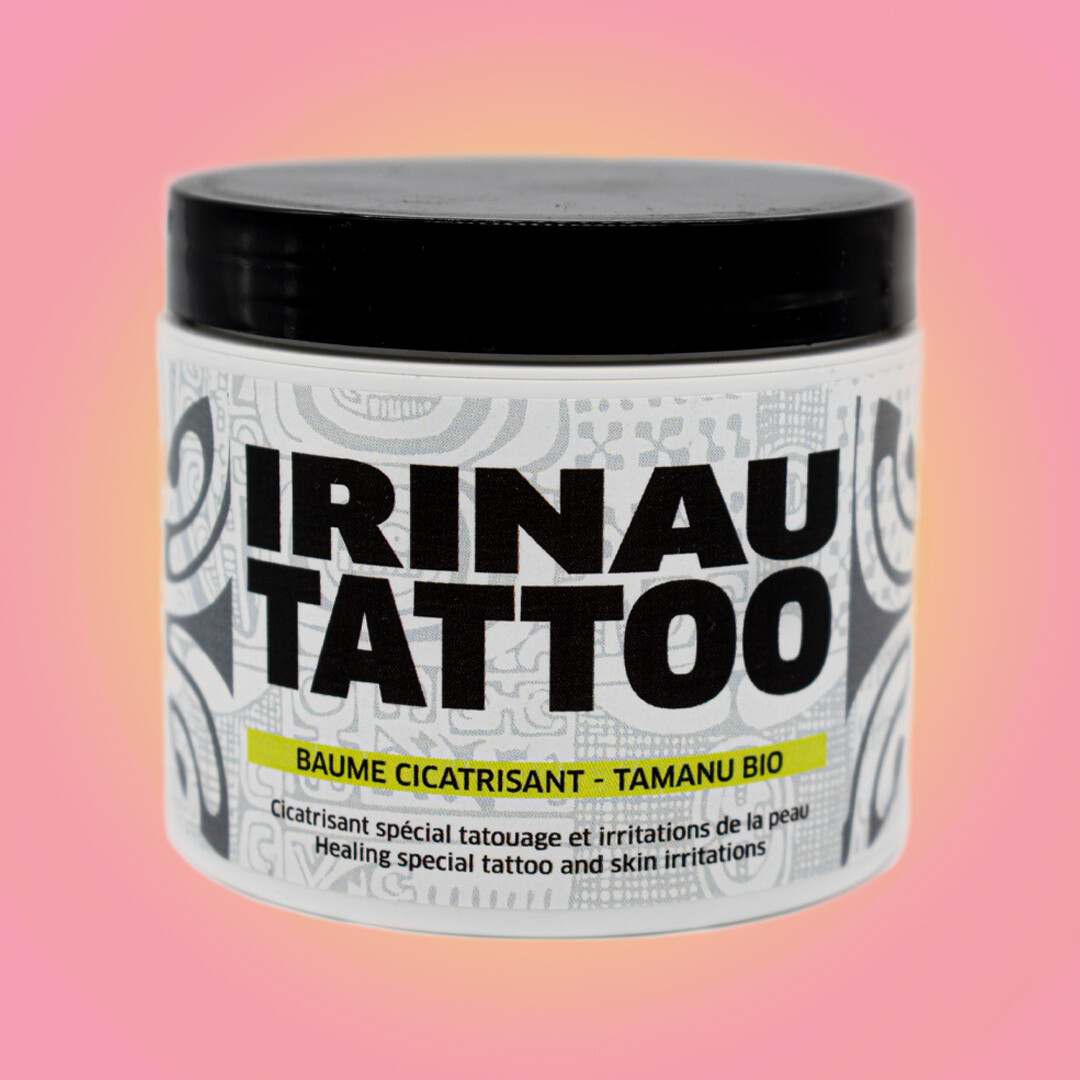 Baume Irinau Tattoo
SKU BAUTAT100P
Product Details
TATTOO Care created and tested with Polynesian tattoo, POLYNESIE TATAU, and made with organic Tahiti Tamanu Sauvage, known for its healing antioxidants, antibiotics and disinfecting properties.
Made with virgin coconut oil, santal wood, vetiver, ginger extract, Vitamin E, honey and raw beeswax with pollen of flowers from Marquesas Islands. Revives the colors and maintenance of older tattoos.
---
SUMMARY OF ADVICE :
with the best professional Polynesian tattoo artists, Rau Hotu Tahiti has elaborated the following procedure to bring the best care to your tattoo.

IMPORTANT : Wash and disinfect your hands before and after the care.
DAY 1: LET YOUR SKIN BREATH
- Quickly remove the plastic film or bandage once arrived at home,
- Leave the tattoo out in the open,
- Apply IRINAU TATOO Balm,
- Prefer loose-fitting cotton clothes,
- No bandage on the tattoo unless you do dirty work,
- No bathing (pool, sea) for the first weeks,
- Avoid the sun as much as possible.
CLEAN THE TATTOO DAILY
- Warm water,
- With a soap or mild cleansing gel,
- Dry without rubbing with a compress, clean towel or paper towel. No synthetic or sponge.
APPLY IRINAU TATTOO BALM
- In a very thin layer,
- At least twice a day, morning and evening for a minimum of 15 days,
- Do not rub, scratch or remove dead skin and crusts.
TAKE CARE OF YOUR TATTOO AFTER HEALING
- Moisturize once a day for another month or more.
- Avoid the sun and protect your tattoo with IRINAU TAMANU oil or IRINAU TATTOO balm.
In case of redness, irritation, pimples, pain, swelling, strong itching, ask your tattooist for advice and/or consult your pharmacist or doctor.
---
Avec les meilleurs tatoueurs professionnels polynésiens, Rau Hotu Tahiti a élaboré le protocole suivant pour apporter les meilleurs soins à votre tatouage.
RECAPITULATIF CONSEILS :
IMPORTANT Se laver et de se désinfecter les mains avant et après les soins.
1er JOUR : LAISSER SA PEAU RESPIRER
• Enlever rapidement le film plastique ou le pansement arrivé à domicile,
• Laisser le tatouage à l'air libre,
• Appliquer le baume IRINAU TATOO,
• Favoriser les vêtements amples en coton,
• Pas de pansement sur le tatouage sauf si travaux salissants,
• Pas de bain (piscine, mer) les premières semaines,
• Eviter le soleil au maximum.
NETTOYER LE TATOUAGE QUOTIDIENNEMENT
• A l'eau tiède,
• Avec un savon ou un gel lavant doux,
• Sécher sans frotter avec une compresse, une serviette propre ou un papier absorbant. Pas de synthétique ni d'éponge.
APPLIQUER LE BAUME IRINAU TATTOO
• En très fine couche,
• Au moins 2 fois par jour, matin et soir pendant 15 jours minimum,
• Ne pas frotter, gratter ou retirer les peaux mortes et les croûtes.
PRENDRE SOIN DE SON TATOUAGE APRÈS CICATRISATION
• Hydrater 1 fois par jour pendant encore 1 mois ou plus.
• Eviter le soleil et protéger son tatouage avec l'huile IRINAU TAMANU ou le baume IRINAU TATTOO.
En cas de rougeur, irritation, boutons, douleur, gonflement, forte démangeaison, demander conseil à votre tatoueur et/ou consulter votre pharmacien ou médecin.
---
Cruelty free, Gluten free, Paraben free, Preservative free, Soy free, Sulfate free, Infused with botanicals. Made with organic and natural active ingredients.
Save this product for later